PSAC declares bargaining impasse, calls for commission as prelude to potential strike vote
By Emily Haws Dec. 19, 2018
https://www.hilltimes.com/2018/12/19/psac-declares-bargaining-impasse-calls-governments-two-year-wage-freeze-offer/181822
The feds say they're committed to working with unions to reach agreements that are good for both bureaucrats and Canadians.
PSAC national president Chris Aylward says the government is not serious about reaching a tentative agreement, given its most recent wage counter-proposal. The Hill Times photograph by Andrew Meade
The story link will be added automatically.
From: To: Message:
The largest public sector union is one step closer to strike action for four groups representing 90,000 public servants, after declaring a bargaining impasse over the government's latest contract offer.
In response to the Public Service Alliance of Canada's (PSAC) opening proposal of a 3.75 per cent raise in October, Treasury Board countered with a 0.75 per cent annual raise offer.
PSAC national president Chris Aylward said "there's no doubt in [his] mind" that PSAC is ready to strike over it, because its No. 1 issue is "a decent wage offer."
"In our mind [the wage proposal is] nowhere near a serious offer. This government is obviously not serious about getting to a tentative agreement," Mr. Aylward said, adding members have said he made the right choice. "As a result of that wage offer that they put on the table we decided to declare an impasse."
PSAC represents about 140,000 federal bureaucrats. About 90,000, including federal educators, administrators, and technicians are represented through four groups: Program and Administrative Services (PA)—which represents the vast share of the 90,000—Education and Library Science (EB), Technical Services (TC), and Operational Services (SV).
The groups have been bargaining with Treasury Board since June, with four rounds of meetings taking place. The first three rounds were essentially unproductive, said Mr. Aylward, with Treasury Board either saying no or it isn't interested in the proposals, which include a 10-day paid domestic violence leave, and a longer top-up period for parental leave, among others.
In addition to the 0.75 per cent annual raise, Treasury Board also put forward a 365-day contract implementation date and no retroactive pay.
These provisions are thought to be because of the Phoenix pay system, which has left tens of thousands of bureaucrats with pay-related headaches since its February 2016 launch.
The system doesn't process retroactive payments automatically, which left pay advisers scrambling to implement recently settled contracts manually within the agreed upon time. Long story short, they didn't, and now the government is negotiating compensation for the contracts implemented past deadline.
Mr. Aylward said members found the counterproposal insulting, and left the bargaining table "very frustrated" about what the union calls a "two-year wage freeze."
Union calls for public interest commission
PSAC has now filed for a public interest commission (PIC) to be established to help negotiations move forward. The three-person commission has a chairperson appointed by the Public Sector Labour Relations and Employment Board (PSLERB) and representatives nominated by the government and union.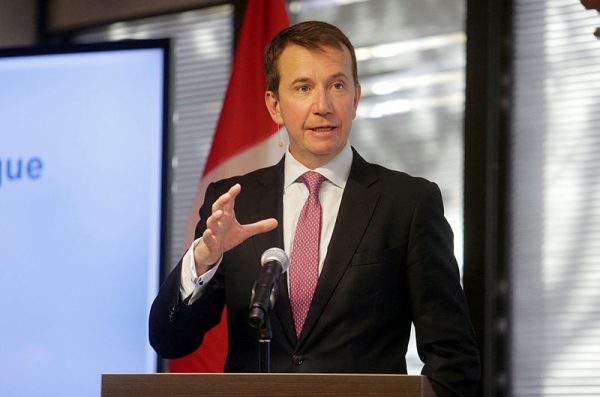 A spokesperson for Treasury Board President Scott Brison, who heads the department that officially employs the core public service, said the government continues to negotiate in good faith. The Hill Times photograph by Andrew Meade
The commission has many of the same powers as the board, and during a hearing both sides submit briefs and explain their positions on the issues at play. The commission's final report with settlement recommendations is not binding, but helps the parties find a path forward. The report is supposed to be submitted to the chairperson within 30 days by law, but exceptions can be granted.
"Seven days after we receive the PIC report we can call the first strike vote," Mr. Aylward said, but noted that the whole process could take several months.
The PSLERB is notoriously slow, but Mr. Aylward said establishing a commission actually expedites the bargaining process because it shines a light on a new path, and parties can continue to bargain on every issue while the PIC is doing its work.
Bruce Cheadle, a spokesperson for Treasury Board President Scott Brison (Kings–Hants, N.S.), said in an emailed statement that the government would respect any decisions made by the PSLERB in regard to the establishment of a public interest commission.
The government is committed to working with unions to reach agreements that are good for both bureaucrats and Canadians, he said, and as such, it's committed to bargaining in good faith and open to negotiation discussions.
Out of respect for the process, "we'll confine our negotiating to the bargaining table," Mr. Cheadle added.
It has been suggested that the parties could agree to a separate deal of some kind of lump-sum payment that ensures public servants are paid more of a raise over the four-year period. Mr. Aylward said he's happy as long as his members get the pay owed to them.
"In our minds, it's still going to be retroactive pay. We're still going to get compensated back to the expiration of the last collective agreement up until" ratification, he said.
Phoenix fixer Linklater inks a raise
Meanwhile, Public Services and Procurement associate deputy minister Les Linklater, who is in charge of fixing Phoenix, has inked a raise for the new year, moving up the classification rank. Mr. Aylward didn't have much to say on the raise, other than "hopefully they'll put the same offer on our table" and that he's focused on his members' wages.
As of Jan. 7, Mr. Linklater will be paid between $221,300 and $260,300 annually, according to a Dec. 6 order-in-council. The exact salary of all government executives is unknown due to privacy considerations.
The pay boost puts him in a similar range as PSPC deputy minister Marie Lemay, whose salary has fallen between $224,300 and $263,800 annually since her appointment to the role in 2016.
Public Services and Procurement associate deputy minister Les Linklater is responsible for fixing the troubled Phoenix pay system. The Hill Times photograph by Andrew Meade
Previously, Mr. Linklater was making between $192,600 and $226,500 annually, according to the February 2017 order-in-council announcing his switch from the Privy Council Office to Public Services and Procurement.
One can't tell how much his raise was, but there is an almost $29,000 difference between the bottom ends of the two salary ranges.
The Hill Times asked the Privy Council Office why Mr. Linklater got a raise, but PCO spokesperson Stéphane Shank didn't give a reason in an emailed statement, only saying it "is determined by the governor-in-council."
Mr. Linklater has moved up to a DM2 classification, said Mr. Shank, meaning the maximum bonus he could receive is 33 per cent of his yearly salary, between $73,029 and $85,899 starting in January.
Performance pay is set out in an employment agreement and tied to certain criteria. The amount of pay varies based on the level of performance weighed against objectives and the demonstration of key leadership competencies. Performance pay can include at-risk pay, which reflects that a portion of an executive's salary is at risk if they do not perform, and bonus pay, which is provided for exceeding expectations.
The Hill Times asked PSPC if its executives fixing Phoenix, including Mr. Linklater, got performance pay, but the department didn't directly respond to questions and cited the Privacy Act, saying employees' remuneration is personal information and can't be disclosed.
Mr. Linklater previously told The Hill Times that fixing Phoenix was in his performance agreement.
Mr. Aylward said he doesn't fault Mr. Linklater for the Phoenix problems since he didn't make any of the decisions that created them, adding he's in a "difficult position." Mr. Linklater meets with the unions roughly every six weeks.
"Honestly, I believe he's doing the best that he can with what he got, but what he got was a broken system and he knows that," Mr. Aylward said.
PSAC sets 2019 priorities
Looking forward to the year ahead, Mr. Aylward said that the October federal election will be the union's focus. PSAC leadership will be developing a strategy and bringing it to members in January, he added.
In 2012, the PSAC membership agreed to have a war chest of up to $5-million to campaign against the Conservative government during the 2015 election. No specific amount of war chest money was approved this year, but union members agreed to escalating actions around Phoenix and "certainly we made a commitment to be more politically involved," Mr. Aylward said.
PSAC also continues to negotiate Phoenix damages. A meeting was held last week about the problem, with more dates set for the new year. Mr. Aylward said the group is still pushing for a tax exemption for Phoenix-affected employees and a public inquiry to ensure history doesn't repeat itself.
It also continues to work with Treasury Board on the NextGen pay system, to replace the current Phoenix model, with PSAC pushing for vigorous testing. Government officials are on board with its plans, Mr. Aylward said.
The Hill Times